Are you looking for a way to help your students or child learn the Spanish alphabet? If so, you need to check out these amazing Spanish alphabet worksheets (PDF download)! This printable Spanish alphabet coloring book is perfect for practicing at home or in the classroom.
In this blog post, we'll show you how to use these worksheets effectively with your students or child. Trust me – once you see how helpful and engaging they can be, you'll love them! Get them today and get started practicing the Spanish alphabet.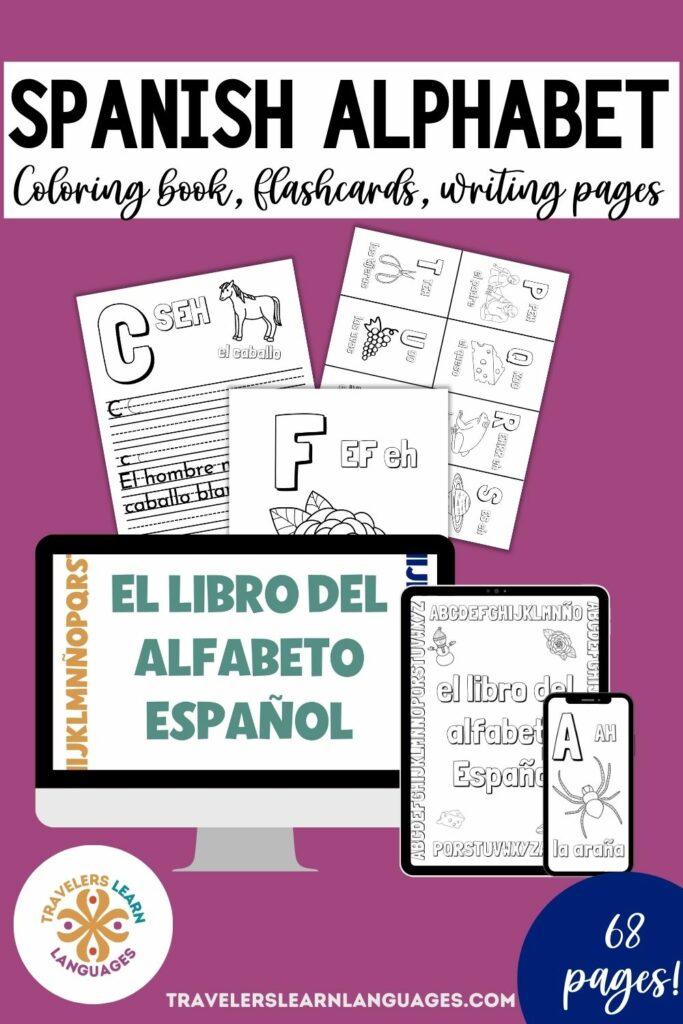 Jump to
Why do you need it? | What's in the PDF? | Different ways to use the Spanish alphabet book | Benefits of using it | Where to get it | Buy it now
🤔 Why you need Spanish alphabet worksheets (PDF)
If you are just starting to learn Spanish, having a handy Spanish alphabet book will set you on the path to success. Not only will it help introduce each letter of the Spanish alphabet and its corresponding sound, but it will provide you with a way to practice writing the letters and how they appear in Spanish words. Moreover, using one page from a coloring book will help a student focus on the Spanish letter, a Spanish word, and a picture. This will help young artists build vocabulary.
In fact, this alphabet activity not only makes learning fun, but can help effectively build memory retention. ¡Vamos aprender español!
📖 What's in the Spanish alphabet worksheets PDF?
Learning the Spanish alphabet can be a great way to get started in learning this beautiful language. With the help of this Spanish alphabet coloring book and guide, students can quickly and easily learn the letters and proper pronunciation.
With 68 total pages in this Spanish alphabet book, this carefully crafted resource provides a fun introduction to Spanish letters.
The first three pages are intro pages, one with color pictures, one with my information, and an engaging black and white page students, adults or children, color.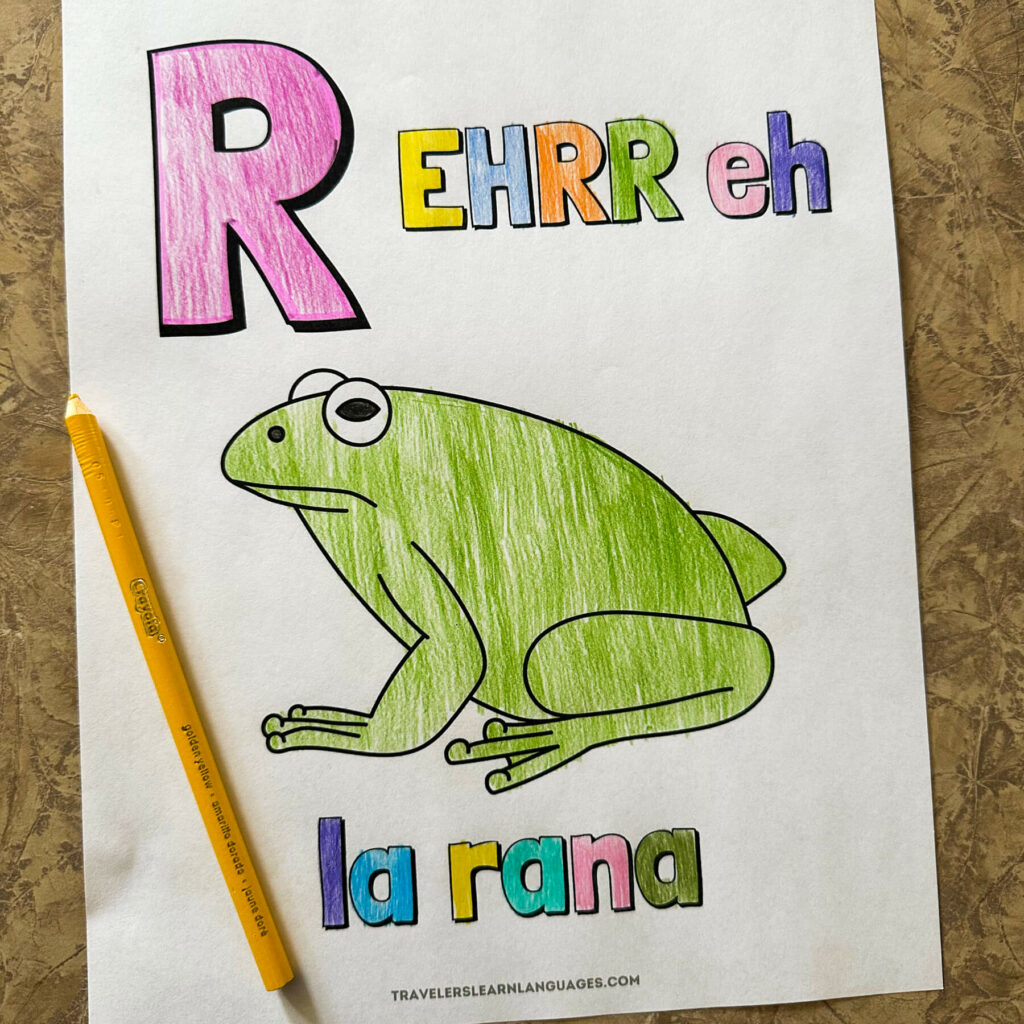 🖍 Individual letter coloring pages
After the introduction, it's followed by 27 individual pages, each featuring a letter of the alphabet, its phonetic sound, a word beginning with that letter, and an accompanying picture to color in. Also, note the Spanish word appears on the page with the definite article so young artists associate whether the word is masculine or feminine.
The pages include all sorts of images, from a favorite animal to sports, food, and clothing.
In addition, these coloring book pages can be used to create an engaging and colorful book of letters for students to proudly take home to parents or guardians.
I also like to use them as decorative posters for around the classroom. This works especially well in kindergarten and elementary when the students are super proud to see their work on the wall. Don't tell my middle and high school students, but I think they like it too, even though they won't admit it!
🃏 Flashcards with Spanish letters
Following the coloring book pages are eleven smaller flashcard style pages, perfect for learning on-the-go! I love flashcards, both digital and physical, to help review Spanish vocabularies and be sure the student can come up with the correct Spanish word.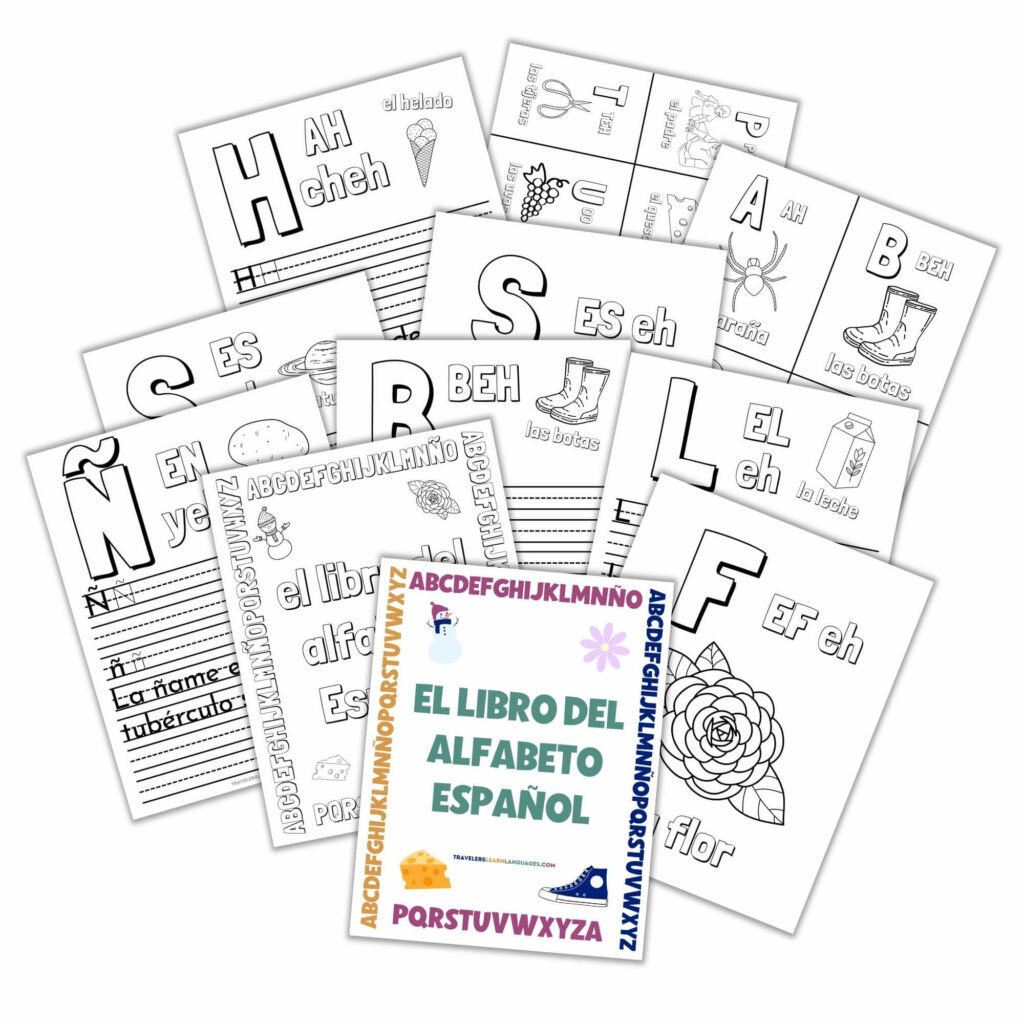 ✏️ Writing ideas with a Spanish word
Finally, there are twenty-seven more pages dedicated to the practice of writing each letter and providing example sentences. There is no English translation on the page so students use context clues and pictures to figure out the meaning.
These pages also have large letters to color in and the Spanish word appears just under or next to the picture of that word. Whatever your learning needs, this resource will help you make sure your students are having fun while mastering their ABCs in Spanish.
Instructors can also use this helpful Spanish alphabet coloring book as part of a lesson plan to make sure each student is successful in learning the fundamentals.
¡Es una manera fantástica de aprender el español!
😃 Get the Spanish Alphabet Coloring Book!
A great resource to effectively build understanding and pronunciation, and best of all, it makes learning fun.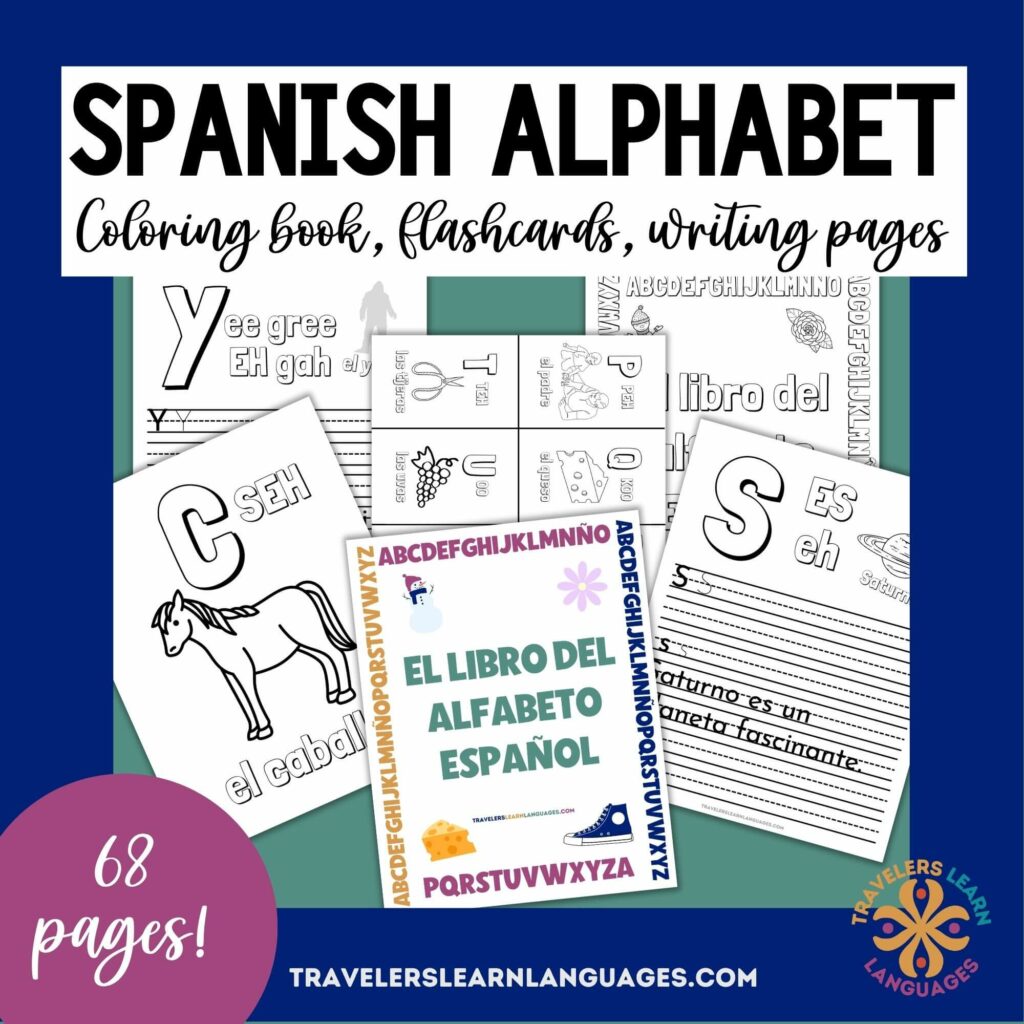 👩‍🏫 Ways to use the Spanish alphabet book PDF
1. With home school students
Home school students can use the Spanish Alphabet Book printable PDF to reinforce letter sounds and spelling. The printables are posters and flashcards perfect for decorating a student's desk or classroom bulletin board. At the same time, the practice pages provide plenty of opportunities to trace and write each letter. This is a great way to spark enthusiasm when learning Spanish!
2. For elementary, middle, or high school use
For classroom use, teachers can display the posters as visual aids during lessons on phonics and spelling. This will help young students grasp each letter's pronunciation and meaning in context. You can also hand out the flashcards to use as engaging review activities. The cards help to test students' knowledge of Spanish letters and words and review.
3. Letter tracing practice
The practice pages included in this book offer valuable reinforcement for homeschoolers or classroom learners alike who require more help with learning how to write Spanish letters correctly. Kids can trace over the large letters to practice forming them accurately. After that, then move on to writing their own letters in the lines provided afterward for added repetition.
4. Coloring pictures
With its illustrations, this book provides a fun way for children to explore new vocabulary words in Spanish while practicing writing skills at the same time. The pictures prompt kids to remember what each word means. This fosters better retention of both English-Spanish translation skills and overall language fluency.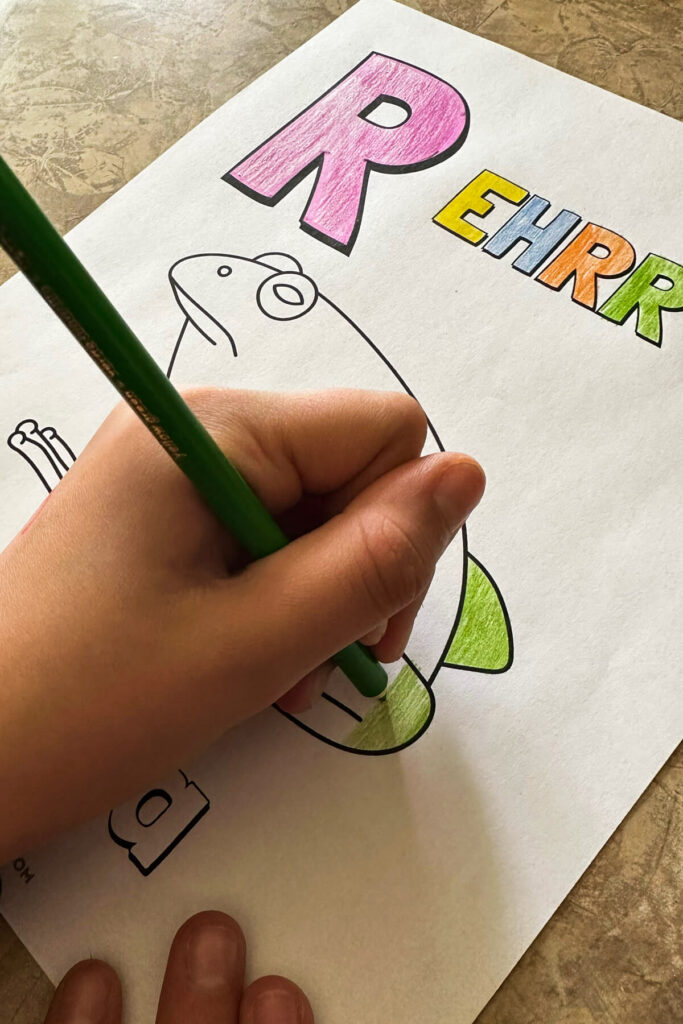 5. Private one-on-one lesons
Parents or tutors looking for helpful supplemental materials may find this book especially useful when teaching their kids at home. It's also great for introducing younger students to Spanish language basics in private one-on-one lessons.
6. Adults can enjoy it too!
Adults who need a refresher course can take advantage of this resource too! Being able to color each illustration makes this an enjoyable way for grownups to review alphabet sounds, common words, and basic sentence construction. I don't know about you, but coloring can be a great stress release for me. I'd much rather do that than stare at a grammar book!
7. Written and visual aids
Children interested in bilingualism may be encouraged by having access to such a comprehensive resource that covers both sides of the language spectrum: pictorial cues plus written exercises make it easier for young minds to process new information more quickly than if they were only working with either one alone (verbal or visual).
8. More advanced learners
Advanced learners may enjoy tackling additional assignments related to phonetics. For example, they could set up similar sounding rhyming pairs containing the target words. Suggest they use the word provided and come up with a rhyme.
Finally, teachers should have no problem finding creative ways to incorporate these pages into their lesson plans. Whether they're used as standalone activities or part of larger projects involving group discussions/presentations/etc., there's sure to be something here that sparks interest among students regardless of age or level!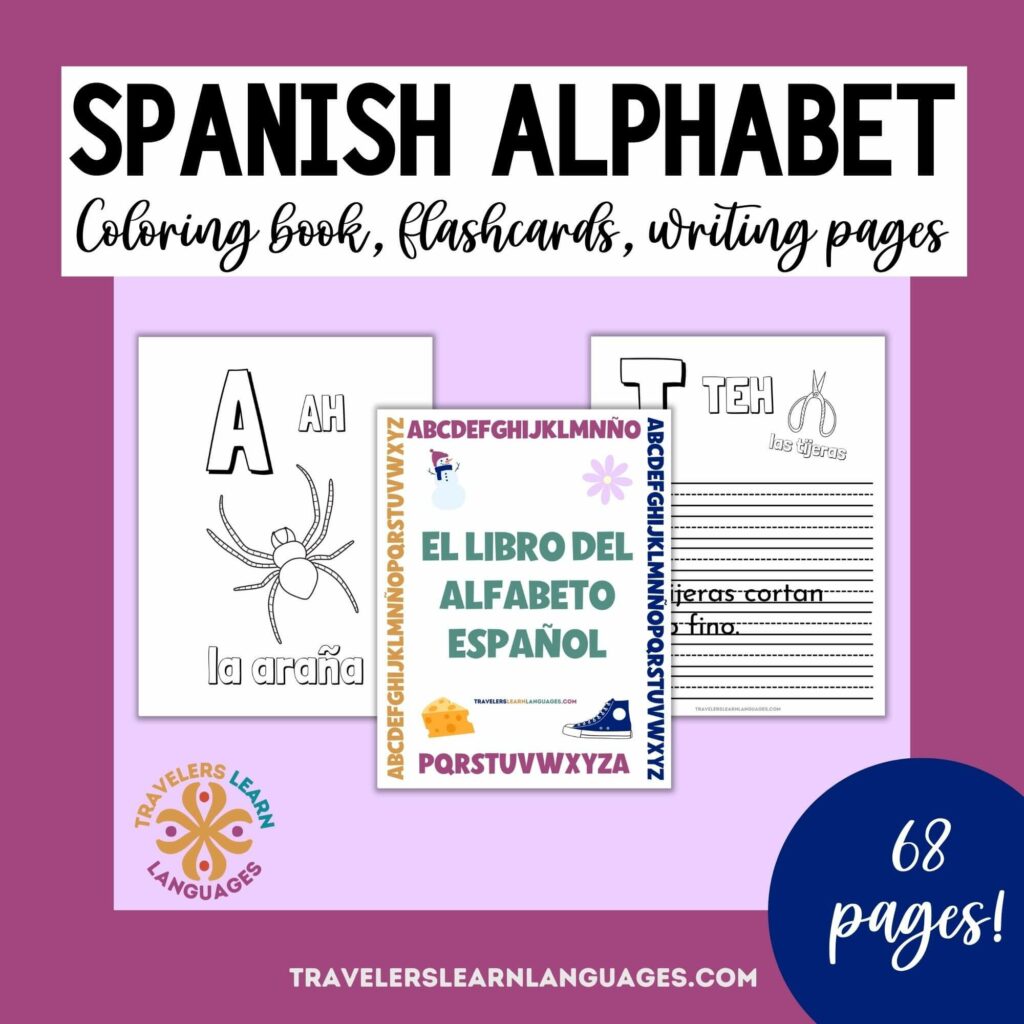 🙌 The benefits of using a Spanish alphabet worksheet PDF
Learning to read and write in Spanish is an exciting journey for language learners. It all starts with the letters of the alphabet, which are the building blocks of communication. For those looking to get ahead of the curve as they tackle this new challenge, fun Spanish alphabet activities can prove invaluable. Such sheets provide helpful hints and visual representations, making them great tools for mastering pronunciation and learning spelling conventions.
Plus, they're incredibly easy to use: simply download and print out your preferred sheet then start practicing! So why wait? Get ready to take your knowledge, or your students' knowledge, of Spanish up a notch! How? With this trusty Spanish alphabet worksheet PDF today.
🌎 Where to find this Spanish alphabet activity and coloring book
If you are learning the Spanish language, a great resource to have is a printed Spanish alphabet worksheet PDF. I love to give students each a different letter and put them up around the room. They can use is as a coloring book, or color the smaller versions for personal flashcards.
You can buy it here today to help the beginner Spanish student get started on mastering the sounds and syllables that make up the Spanish language. With these interactive worksheets, you'll learn each letter's pronunciation, its spelling, and how to pair it with Spanish words.
Even better, if you buy it here today, access to additional resources like video lessons and quizzes will be included for free! Get ready for your Spanish journey– buy your Spanish alphabet worksheet PDF now!
📕 Spanish alphabet book: A fun, creative way to learn the basics
This Spanish alphabet workbook is an incredibly useful tool for anyone learning Spanish. Not only does it help you learn the basic building blocks of the language, but will teach children skills and subjects in an interesting way.
If you're not sure where to start or don't yet want to buy the Spanish alphabet coloring book, download one of my free printables!
And don't forget to share this post with any teachers, homeschoolers, parents, or anyone else who might be interested in learning more about how to use the Spanish alphabet.
I hope this article has inspired you to grab the Spanish alphabet coloring book so that you and your students or children, can start practicing your letters today! Fill out these pages, sing the ABCs in Spanish, and get started on your language learning.
Remember, the more you practice, the better you'll become at reading and writing in Spanish. If you need help finding more resources, feel free to check out our website for some great options. I'm posting new ones all the time. Right now this one's for sale on Etsy but soon it will be available directly from the website. Thanks for your support!
Until next time, happy learning!
📌 Pin it here!